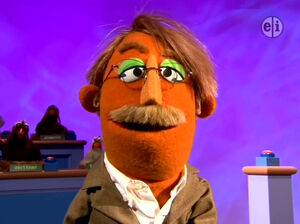 Jeff Bawksworthy is a orange male humanoid whatnot who is the host of the Sesame Street game show, Are You Smarter Than an Egg Layer?, which appeared in Episode 4179. His panelists are five chickens named Megan, Jennifer, Kyle, Brittany, and Tandoori.
As the show progresses, Jeff is surprised to find how poor at math his contestant is -- and she's an accountant. He tries to be as polite about it as he can, but in the end, has to level with her -- she is definitely not smarter than an egg layer.
Jeff Bawksworthy is a parody of comedian and game show host Jeff Foxworthy.
Ad blocker interference detected!
Wikia is a free-to-use site that makes money from advertising. We have a modified experience for viewers using ad blockers

Wikia is not accessible if you've made further modifications. Remove the custom ad blocker rule(s) and the page will load as expected.