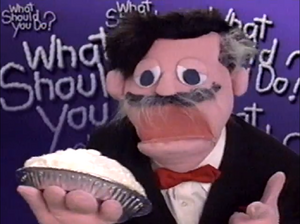 Doc Quick is a pink male humanoid whatnot with black hair who appears in the direct-to-video special Kids for Character: Choices Count. He is seen in segments where he is the host of a fictional game show called "What Should You Do?" in which he asks wacky questions to live-action kids. Whatever a kid answers a question that's incorrect, an animated pie is thrown at their faces, but if they answer a question correctly, he will take that answer as correct.
He is similar to Guy Smiley from Sesame Street, however, they are completely different, in both appearance and personality.
Ad blocker interference detected!
Wikia is a free-to-use site that makes money from advertising. We have a modified experience for viewers using ad blockers

Wikia is not accessible if you've made further modifications. Remove the custom ad blocker rule(s) and the page will load as expected.